I can't believe I've been blogging for almost a year! It's crazy that time has flown by so fast. I've loved sharing what I've tried in my class and in the other aspects of my position. I've loved getting to "know" other bloggers and learn from them. And, I can't even begin to say how my life has been changed by the friendships I've made. As I've reflected on the last year, I discovered that the first linky I ever had was one for Valentine's Day and I did it REALLY early on (yeah, 4 days) in my blogging. I'm amazed that anyone linked up!
I thought it would be fun to come full circle (well, sorta) and do another Valentine's Day linky. This one has a little twist though. I don't want it to be a linky filled with only products, because, well, who wants to go explore through that? Instead, I want it to be all about LOVE: who you love, what you love, what products you love, etc. Yes, please showcase Valentine's Day products, but make it interesting for us too! 🙂 To link up, just write a post including the image below and then come back and link up! That's it! 🙂
If I'm going to talk about people I love, I need to talk about some of the new friends I've made through blogging! I talk about them from time to time, but their amazingness continues to make me weep with jealousy! (Okay, not really, but they're phenomenal!)
Some People I'm Loving!
DeAnne from First Grade and Fabulous was one of the first bloggers I got to "know". She's always looking out for others and offers tons of freebies to her followers!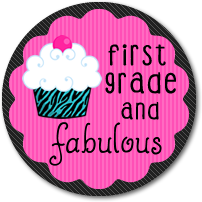 Nicole from Teaching with Style has also become a good friend! I love everything she creates, she's hilarious, and she stands up for what she thinks is right. She's my kind of people and I adore her!
I've made so many friends through blogging and you'd get bored if I went through them all! Those are just a couple ladies that I look forward to talking with often! There's many, many more!
Some Things I'm Loving!

I shared this with you before but I'm in L-O-V-E LOVE with these! They're creamy and sweet and warm and delicious!
I love all of my 31 items! I have a slight obsession with their Parisian Pop print. I have my school bag, lunch bag, purse, wallet…..I'll stop. 🙂
What can I say about TpT? Well, it's changed my life in so many ways: as a buyer and as a seller. If you're constantly creating resources to use in your room, seriously, sign up. It takes a lot of time, but it's so worth it! Click the link above to get started!
And, a product plug or two….
I don't have a lot of Valentine's Day items from last year, and haven't made anything new for it other than clip art, but click the pictures below to see more about each product.
Heart Hop- Subtraction without Regrouping
Sweet Treat Money Counting- with and without story problems
Valentine's Day Digital Papers
Heart Hop- Addition with and without regrouping
I can't wait to see what everyone links up with! 🙂
document.write('